In June 2021, U.S. shoppers pay approximately $3.50 for a gallon of whole milk. One year ago, it cost only $3.21. In May 2021, a pound of oranges cost $1.32. A year ago, the price was only $1.20. As prices continue to rise, concerns about inflation are mounting as well.
Inflation is defined as a continual rise in the price of goods or services, decreasing the purchasing power of your dollars. In the United States (U.S.), the inflation rate is measured by the Consumer Price Index, the Producer Price Index, and the Personal Consumption Expenditure Price Index.
The Wall Street Journal reported on June 10, 2021, that the U.S. inflation rate is the highest in nearly 13 years. One of the reasons is due to businesses unable to meet demand as the U.S. economy opens up as the Covid-19 pandemic restrictions loosen, and this is then made worse by the bottlenecks in the global trading system due to the global pandemic.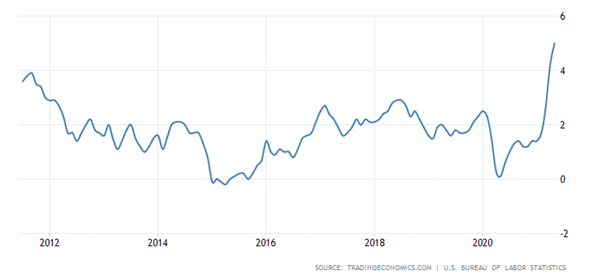 U.S. Inflation Rate for the past 10 years
Source: tradingeconomics.com, U.S. Bureau of Labour Statistics
Naturally, many investors are now looking for investments to hedge against inflation. An inflation hedge is an investment intended to protect an investor against a decrease in the purchasing power of money. A classic option for an inflation hedge is none other than gold, a precious metal. In recent times, Bitcoin is also gaining popularity among investors as a hedge against inflation.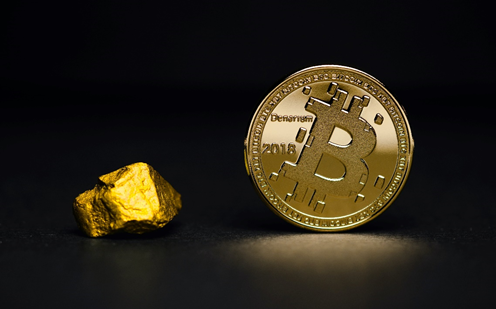 Photo Credit: Aleksi Räisä on Unsplash
One of the main attractions of gold is the inverse reaction of gold prices with the U.S dollar. If the U.S. dollar goes down, gold prices move up. According to the World Gold Council, between 1974 and 2008, there were only eight years when the U.S. inflation rate was high (exceeding 5%). During those periods, gold prices jumped by an average of 14.9% year-over-year.
If you're wondering if gold is a safe investment for retirement, the Council also goes on to report that compared to other financial assets, gold lacks credit or default risks, and it is buoyed by high inflation. Hard assets including precious metals like gold and silver, as well as real estate hold intrinsic value due to a limited supply.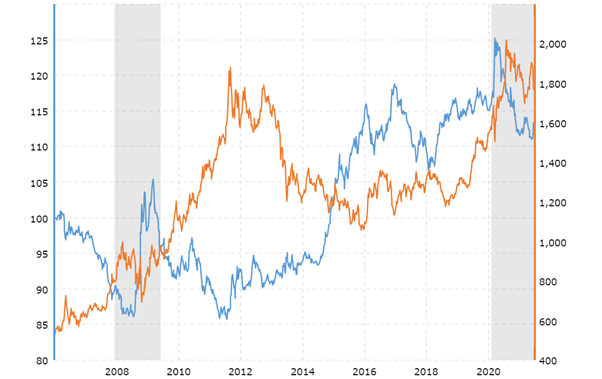 A 10-year chart showing the correlation between gold prices and the U.S. Dollar
Source: Macrotrends.net
(ORANGE: Daily London Bullion Market Association (LBMA) fix gold price, BLUE: Daily closing price for the broad trade-weighted US Dollar index)
History of Gold IRAs
If you are keen on investing in gold for retirement, one of the ways you can do this is through a gold IRA. When IRAs were first allowed in 1974, collectibles, whether gold or silver, were not allowed to be part of IRA investments to reduce speculative risk-taking in retirement savings accounts.
However, this changed in 1986 when the IRS permitted investment in U.S. gold and silver coins. Changes in the IRS tax code in 1998 allowed for a wider range of precious metal coins and bars to be held within IRAs. In 2007, the IRS ruled that gold exchange-traded funds (ETFs) were not collectibles for IRA investment purposes.
Before we delve further into gold IRAs, let's first take a look at the different types of individual retirement accounts.
Individual Retirement Account
An individual retirement account (IRA) is a tax-advantaged account to help U.S. citizens to save money for retirement. There are different types of IRAs such as traditional IRA, Roth IRA, simplified employee pension (SEP) IRA, and a savings incentive match plan (SIMPLE) IRA. These IRAs differ in terms of taxability, eligibility, and withdrawal rules.
You can opt to set up a traditional or Roth IRA by yourself, or your employer can open a SEP or SIMPLE IRA. In addition to the different types of IRA, there are also different types of investment that an IRA can hold.
Self-Directed IRA
A self-directed IRA or SDIRA is a type of IRA that an investor can use to invest in assets that are not permissible with regular IRAs. While a regular IRA allows for investments in paper assets such as stocks, bonds, or mutual funds, an SDIRA allows for investment in alternative assets such as precious metals, real estate, commodities, and other forms of non-traditional assets.
An SDIRA is held by an IRA custodian or trust company. Through an SDIRA, an investor has the freedom to choose the type of investment to invest in or diversify their portfolio. Self-directed IRAs have been in existence since 1975 as part of the Employee Retirement Income Security Act of 1974 (ERISA).
Precious Metals IRA
A precious metals IRA is an SDIRA that investors can use to invest in precious metals that have been certified by the IRA. Gold and silver are the more common precious metals that investors opt for their precious metals IRA. However, other precious metals such as palladium and platinum can also be held in a precious metal IRA.
The value of gold and other precious metals was tied to their function as currencies. However, in present times, they are regarded as investment and industrial commodities. Precious metals like gold, silver, and platinum have commanded higher prices than common industrial metals.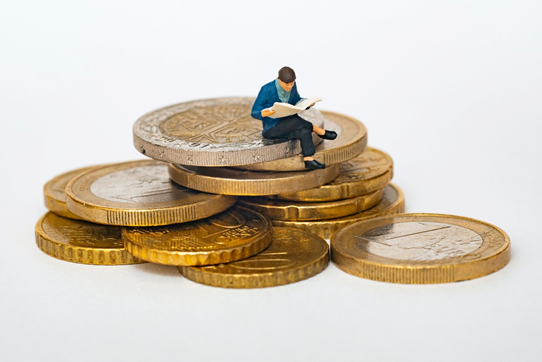 Photo Credit: Mathieu Stern on Unsplash
Gold IRA
As gold is one of the more popular precious metals options compared to silver, platinum, and palladium, so let's take a closer look at gold IRAs.
A gold IRA is a specific type of IRA through which physical gold is held in custody for the account holder. Investors can hold physical metals such as coins or bullion, as well as precious metals related stocks.
However, only certain coins are eligible, and bullions must meet the applicable purity standard set by the IRS. The bars, rounds, and coins must be produced by a refiner, assayer, or manufacturer that is accredited/certified by NYMEX, COMEX, NYSE/Liffe, LME, LBMA, LPPM, TOCOM, ISO 9000, or national government mint and meeting minimum finesse requirements.
This requirement also extends to other precious metals such as silver, platinum, and palladium. So if you are interested in purchasing metals for your precious metals IRA, whether it's gold, silver, platinum, or palladium, you must ensure that they meet the set requirements. Do take note that the requirements for gold, silver, platinum, and palladium all differ from each other. In the next section, we will delve into the requirements for owning gold in an IRA.
What Are the Eligible Coins for A Gold IRA?
An eligibility criterion for gold coins to qualify for a gold IRA is that the coins must have a 99.5% fineness level. Bullion coins that are legal tender can be owned by IRAs. All proof coins must be encapsulated in original, complete mint packaging, in excellent condition, and include the certificate of authenticity. Non-proof (bullion) coins must be in brilliant uncirculated condition and free from damage. Among the coins that can be held in a Gold IRA are:
American Gold Eagle bullion coins
American Gold Eagle proof coins
Canadian Gold Maple Leaf coins
Austrian Gold Philharmonic coins
Australian Kangaroo/Nugget coins
American Buffalo Bullion Gold coins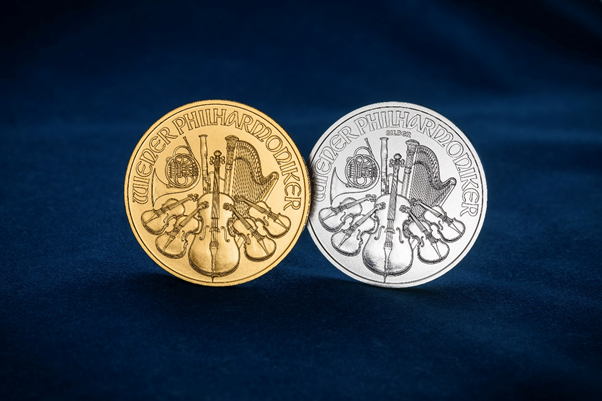 Photo Credit: Zlaťáky.cz on Unsplash
An article that was published by Forbes on September 21, 2020, stated that South African Krugerrands, British Sovereign coins, and older U.S. coins such as Double Eagles do not qualify.
Both the beautiful American Gold and Silver coins are popular among investors. The American Gold Eagle bullion coin is the official gold bullion coin of the U.S. It was released by the United States Mint in 1986 and by law, it is required to contain only gold mined within the United States. The American Gold Eagle bullion is produced by the U.S. Mint in four weights which are one ounce, half-ounce, quarter-ounce, and tenth-ounce.
Meanwhile, the American Gold Eagle proof coin is a collector version of the American Gold Eagle bullion. They are also available in four weights which are one-ounce, one-half ounce, one-quarter ounce, and one-tenth ounce. In 2020, a special End of World War II 75th Anniversary American Eagle Gold Proof Coin was produced by the U.S. Mint. It featured a "V75" privy mark, with an outline representing the shape of the Rainbow Pool at the World War II Memorial in Washington D.C.
Proof coins are transacted with higher premiums compared to bullions coins as they carry both collectible and bullion coin value. These coins go through a specialised minting process which results in a mirror-like finish and sharp detail. It is important to note that proof coins do not always move in tandem to spot or bullion coin prices.
Bullions' criteria for a Gold IRA
Other than gold coins, you can also purchase gold bullions for your gold IRA. All gold bullion bars and rounds must be 99.5% pure or better. For small bullions bars (other than 400-ounce gold and 100-ounce gold), the bullion bars must be manufactured to exact weight specifications. Among the examples of eligible gold bullion are:
Gold bars and rounds produced by an NYMEX or COMEX-approved refinery or national government mint, meeting minimum fineness requirements.
Credit Suisse/PAMP Suisse Gold Bars/various Gold Rounds and Bars .995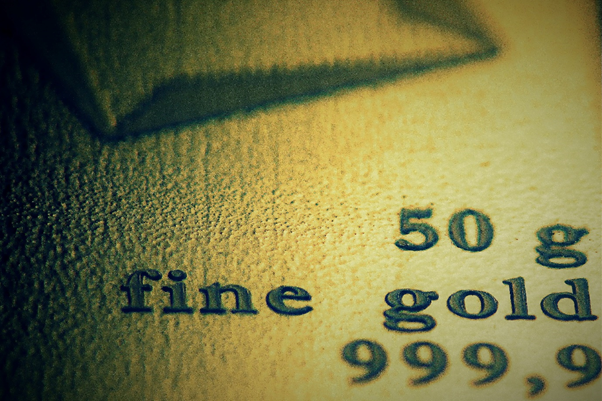 Photo Credit: Anne Nygård on Unsplash
What Do I Need to Consider Before Beginning?
With that introduction into the history of gold IRAs and the requirements for owning gold in an IRA, these are several things you should also consider before beginning:
The Type of SDIRA
You can choose from several types of gold IRAs which are traditional, Roth, or SEP. With a traditional IRA, you are required to pay taxes upon withdrawal of your money later on. Meanwhile, with a Roth IRA, you will need to pay taxes before you contribute the fund to your account. A SEP IRA is an option for those who are self-employed or business owners. It works similarly to a traditional pre-tax IRA where contributions aren't susceptible to taxes, but it has a greater contribution limit.
Limits to contribution
The limit of how much you invest in a gold IRA differs by age. For SDIRAs (both traditional and Roth), the contribution cannot exceed $6,000 if you are less than 50 years old. However, for those aged 50 years and above, you may contribute up to $7,000.
The above contribution limits are applicable for 2019, 2020, and 2021. Do take note that the IRA contribution limits do not apply to rollover contributions. For the latest updates on contribution limits, you may refer to the Internal Revenue Service's website.
How does a Gold IRA work?
Now that you're ready to begin, here is how it works:
1. First, you will need to identify a broker to buy gold that meets the criteria stipulated above.
2. Then, you have to select a custodian who will create and administer your account. It is an IRS regulation that your gold must be in the possession of your custodian.
3. Next, you must arrange for an IRS approved depository to store your gold as the Internal Revenue Code requirement is that you can only store your gold in a storage facility approved by the IRS. You cannot store the gold in a safety deposit box at home.
Because it is not as straightforward as buying physical gold and simply storing it in a safe deposit box at home, it is recommended to obtain the services of a good gold IRA company to assist you.
How Do I Choose a Gold Ira Company?
Patriot Gold Group, Advantage Gold, and Regal Assets are among the gold IRA companies in the market? When choosing a gold IRA company, here is a simple guideline to help you choose the right company to help you on your journey:
Consumer Ratings
Two markers to help you are the consumer ratings from Better Business Bureau (BBB) and Business Consumer Alliance (BCA). The BBB, which has been in existence since 1912, is a non-profit membership organisation that provides information on businesses and charities to the public. The ratings by BBB, which runs on a scale of A+ to F, is used to gauge the business performance, trustworthiness, and ethics.
Similarly, the BCA is also a non-profit organisation with headquarters in California. The BAC uses a sophisticated algorithm to forecast business reliability and subsequently provides a rating on a scale of AAA to F.
Convenience
Secondly, how easy is the process of setting up an account or buying gold? For a beginner, complicated processes can be daunting, and it is certainly helpful if the initial process can be smooth and hassle-free for you.
Fees
Another comparison factor would be the fees charged by the company. Are the fees higher than the average market rate? If yes, are there additional services provided that would benefit you, in the long run, to account for this higher fee? What is a comfortable rate for you? Asking these questions would help you to further streamline which companies would be suitable for you?
Customer Service
If you need assistance in the future, how friendly and helpful are their customer service? As a potential customer, you can always call or email to enquire about their services to gauge how responsive they are. Good customer service would go a long way for times you will need assistance in the future.
How To Fund a Gold Ira Account?
After choosing a gold IRA company best suited for you, it is now time to begin! First, you will need to fill out the paperwork required to open an account. Do prepare your driver's license or any other state-issued ID and details of your existing retirement accounts if you plan to transfer money from other IRAs.
Next, you will need to fund your new gold IRA account, and these are the ways to do it:
Gold IRA Rollover
A gold IRA rollover involves you moving a retirement account to an SDIRA holding physical precious metals at an IRS-approved depository. The types of retirement account that you can transfer to a gold IRA are existing traditional, Roth, SEP, Simple or SDIRA IRAs, 401 (k)s, 403 (b)s, 457 (b)s, and Thrift Savings Plans (TSPs).
If you have a 401k from a previous employer, you may do a 401k to gold rollover with a new custodian of your choosing with no issue. However, if you have a retirement plan with your current employer, it is best if you confirm with them if gold investments as part of their 401k plan are allowed. Likewise, there will be no issue in using your 403 (b)s, 457 (b)s, and TSPs if you are no longer in employment, but if you are, the best thing to do is to confirm with your employer.
Whether it's a rollover from an existing IRA or 401(k)s, below are some key information to help you in the process.
How Do I Transfer an Existing Traditional, Roth, SEP, Simple or SDIRA IRA?
This is a direct transfer method, and you are only required to fill in a transfer form with details such as your name, account number, current custodian, and the amount you are transferring. You will not take physical possession of the funds.
Using a 401(k), 403 (b), 457 (b) or TSP
Through this approach, there are two types of rollovers which are:
Indirect rollover: You will first receive the money from your current custodian. After this, you have 60 days from the date of funds receipt to deposit the money in your gold IRA. If you fail to do this within 60 days, the money then becomes a taxable withdrawal. As a result, there is a 10% early withdrawal penalty if you are under 59 ½.
Direct rollover: In this case, your current custodian will issue a cheque that is payable to your new custodian, which will be sent directly to your new custodian, or forwarded to you.
If you are withdrawing from a personal IRA for a rollover to another IRA, there is no tax withholding. But you are only allowed to do one rollover per year.
Cash Contribution
Lastly, you can always fund in your gold IRA account through cash contribution but as explained before, do take note of the maximum contribution limit based on your age.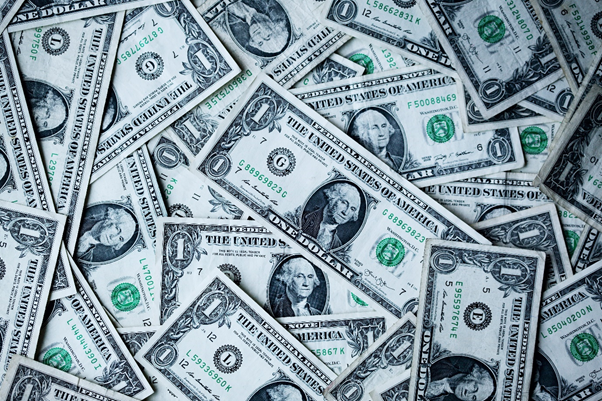 Photo Credit: Sharon McCutcheon on Unsplash
How Do I Purchase Gold?
Once your account has been funded, it's now time to buy your gold. However, do take note of the qualifying criteria for gold in an IRA that was previously explained.
Certain gold IRA companies sell IRS approved precious metals, which means you can purchase your preferred gold directly from them. With companies that do not sell IRS approved precious metals, you will need to identify a precious metals dealer. You will then need to direct your custodian to buy your selected gold from the precious metals dealer.
You are not allowed to purchase the gold directly from the precious metals dealer. If you do not know any precious metals dealer, some custodians would be able to recommend a precious metals dealer to you.
How Do I Choose a Custodian for my Gold IRA?
Custodians can be banks, trust companies, credit unions, brokerage firms, or savings and loan associations that are approved by federal and/or state agencies to provide asset custody services, both to individual investors and financial advisors.
Although some gold IRA companies may recommend custodians to you, it is also good for you to know what to look for in a custodian. These are several factors that you should take note of:
Are They Experienced and Licensed?
A custodian with longer experience could indicate reliability and efficiency in service. Most importantly, the custodian must be approved and have the relevant license required by the IRS. It is also prudent to check if a custodian is listed on the list of IRS Approved Nonbank Trustees and Custodians.
How Are Their Fees?
When you direct your custodian to buy assets for your gold IRA, there is a fee charged. It is good to compare the fees charged by various custodians and the quality of their service before you decide.
How Transparent Is Their Price Monitoring System?
Once you have made your purchase, you definitely would like to track its performance. Some custodians may offer online dashboards which is certainly a convenient way for you to keep track of the performance of your investment. Before deciding on a custodian, this is something you should clarify first.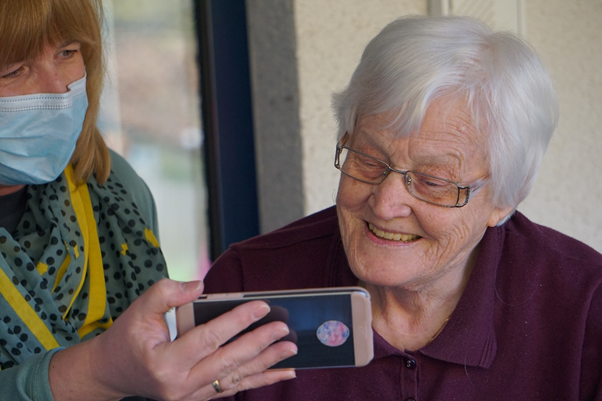 Photo Credit: Georg Arthur Pflueger on Unsplash
How Is Their Buyback Programme?
Another factor is the efficiency of their buyback programme. If you decide to liquidate your gold to take advantage of a favourable market movement, you would want to do it fast. A custodian should be able to facilitate this sale quickly through a buyback programme, so you don't miss out on any opportunity.
How Is Their Service Level?
One thing that can assure your comfort with your custodian is the level of continued support it provides throughout the whole process. You would want to engage with a custodian who is constantly receptive to your questions and has a reasonable turnaround time for services. After all, it is a relationship, and you are entitled to the support you need, especially as you are beginning.
LLC IRA
To avoid a lot of the fees charged by the custodian, there are recommendations that an LLC IRA or Super IRA be set up. This is when the IRA forms an LLC, or a limited liability company, through which it will invest. Instead of going through the custodian, the LLC will transact using a regular brokerage or a checking account.
However, an article published by Forbes warns against using this structure as the IRS states that the gold must be in possession of a custodian, and this is likely to be a prohibited transaction.
How Do I Choose a Depository For My Gold IRA?
The next step is to choose an IRS-approved depository to store your gold as you cannot take physical possession of your metal until the age of 59 ½.
What Is a Depository?
A depository is a place where precious metals, money, and important valuables can be stored securely. With an IRS-approved depository, you can have peace of mind knowing that your gold is stored in a safe place that adheres to stringent requirements such as record-keeping capabilities and size, which are based upon guidelines from Federal and in some cases, state regulators.
The depository also has strong safety measures such as timed locks, automatic re-locking features, and 24/7 monitoring with motion sensors. Furthermore, through an existing periodic system, depositories will be able to trace if any items go missing. The depositories also have insurance coverage in place should anything untoward happen.
Ultimately, by storing your gold with a depository, you do not have to carry the risk of storing them with you and you can eliminate worries if your gold will be stolen.
What Are the Types of Depository Storage Options?
There are two types of storage options which are:
Segregated storage: Your precious metal will be held in a storage compartment reserved for private use (a sealed bin with your name and account number) and separated from the other precious metals.
Non-segregated storage: In this type of storage, your precious metal will be stored in a communal area with the other precious metals. This is also known as commingled storage. In other words, if you deposit American Gold Eagle coins. When you request a withdrawal, it is not guaranteed that you will receive the exact American Gold Eagle coins that you deposited. Hence, this storage option is cheaper compared to the segregated option.
Which Depository Is the Right Option for Me?
Some custodians may refer you to a depository they are comfortable working with. However, you have the option to choose another depository if you prefer. Among the IRS-approved depositories are Regal Assets and Delaware Depository Services Company.
When you are choosing a depository, there are several factors that you should take note of such as convenience (how far is the depository located from where you live), cost-effectiveness, and the level of their customer service.
Gold IRAs: Cost
The costs incurred for a gold IRA is higher compared to a traditional IRA investing in paper assets such as stocks and bonds. Furthermore, there are no storage fees for a traditional IRA. These are the costs to set up a gold IRA:
Account set-up fee: This one-time fee can range from $50 to $150. However, some companies may waive this fee if there is a larger initial deposit.
Annual administrative or custodial fee: Depending on the account size, these can vary from $50 to $150.
Storage fee: This fee can range from $50 to $300 per year, depending on the amount of gold being stored.
Although most gold IRA companies do not charge a commission for purchasing or selling gold, many add a 'markup' to the spot price. Do take note that there are companies who are not transparent about this 'markup'.
Gold IRAs: A Tax Perspective
If you decide to take the gold out in the form of a distribution, you will need to pay the full income tax on the gold's value at the moment you withdraw it once you have assumed physical possession of your gold.
In the case of an early distribution, there is a 10% tax penalty assessed on the value at the time of withdrawal. Additionally, the IRS will assess approximately 28% capital gains tax on any profits realised from your original cost basis of the holdings.
Contributions to a traditional SDIRA are tax-deductible and qualified withdrawals from a Roth account are tax-free.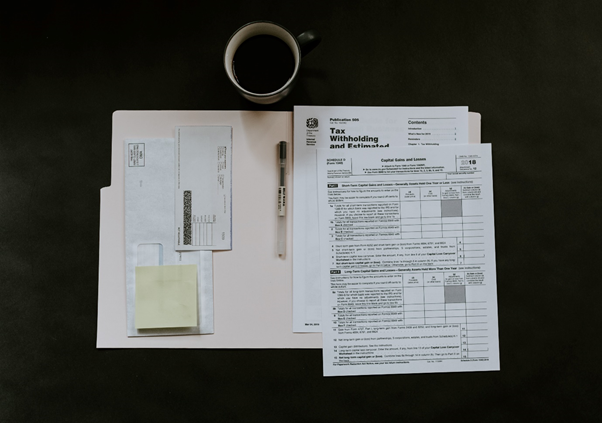 Photo Credit: Kelly Sikkema on Unsplash
Required Minimum Distributions
The IRS stipulates that your gold IRA cannot be touched until you reach the age of 59 ½. For those with a traditional gold IRA, there was a change in the required minimum distributions (RMDs) in 2020, through the Setting Every Community Up for Retirement Enhancement Act of 2019 (SECURE Act). Account-holders must begin withdrawing from a retirement account by April 1 following the year that the account holder reaches the age of 72. Before that, the age was 70 ½ years old. Roth IRAs do not require withdrawals until after the death of the owner.
Are There Early Withdrawal Penalties Exceptions?
As explained above, there is a 10% penalty (plus applicable taxes based on income) in the case of early distributions before the age of 59 ½. However, there are exceptions to this, should the IRA owner become:
Disabled
Hospitalisation, with no insurance or money to pay for the medical bills
Death of the IRA owner, and the beneficiary needs to access the funds through withdrawals
Unemployment, and unable to pay for insurance as a result of this unemployment
IRA possessor engages in identical amount equity withdrawals known as 'substantially equal periodic payments' throughout their expected life
IRA owner or immediate family member (spouse, son, or daughter) requires funds to pay for education considered to be qualified. This includes tuition, books, room and board, and other reasonably related expenses.
IRA owner would like to use up to $10,000 out of the account to purchase a first time home
What Are the Benefits of Gold IRAs?
Now that you have gained a better understanding of how gold IRA works, let's take a look at some of the benefits of having a gold IRA:
Diversification: Investing in a gold IRA is one of the ways to diversify your portfolio if you are heavily investing in other assets such as stocks and bonds, or if you hold a large amount of cash.
Inflation hedge: As explained earlier, gold is a popular hedge against inflation, as the price of gold typically moves in the opposite direction of the USD.
Control is in your hands: Because gold IRAs are self-directed, you can make all the investment decisions and manage your holdings.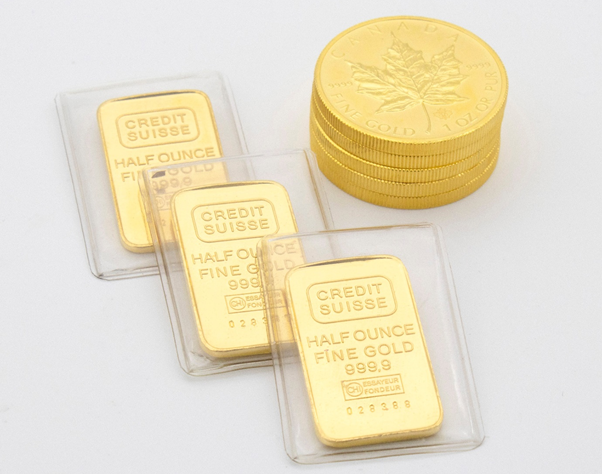 Photo Credit: Sabrinna Ringquist on Unsplash
Other Alternatives for Investing
If you have a bullish view on gold but would prefer other options than physical gold, you can also use your gold IRA to invest in:
Gold stocks (shares of gold mining or production companies)
Gold mutual funds that make investments in bullion or stocks
ETFs that track gold indexes
Through these methods, although you do not own any physical gold, you will still be able to take advantage of the gold price movements. Investors who prefer not to arrange for storage of their physical gold typically opt for these options, as they can indirectly invest in gold without holding actual gold.
Investing in Gold IRAs: Investment Principles
As with every investment, there are principles that serve as a guide to make the most of your investment journeys. Here are five important ones:
Understanding your investment objective and needs: One of the frequently asked questions are: Is gold a good investment for retirement? How much gold do I need to retire? It boils down to your investment objective and needs. To do this, it is good to ask questions such as 'How much do I need during retirement', 'What is the shortfall between what I have and that amount', and 'What is the expected growth of my retirement portfolio?' Based on the answer to your questions, you can identify if gold is a good investment option for you, bearing in mind that gold is a long term, buy and hold asset.
Risk Profile: It is always prudent to access your risk appetite constantly. In different stages of your life cycle, your risk appetite is different. For example, a younger person might be more open to taking risks resulting in a portfolio that leans towards stocks and cryptocurrencies. However, as a person ages, they might not want such a high-risk exposure and would prefer holding precious metals such as gold or silver. What stage of your life are you in right now and how much risk are you comfortable to take?
Diversify your portfolio: A healthy portfolio is a well-balanced one. Just like it's not a good idea to be heavily balanced in stocks or mutual funds, it is also a not prudent decision to channel all your funds into a gold or silver IRA. This could pose a problem for those reaching the age of 72 and will need to take their RMDs, given that gold is typically a long term, buy and hold asset. If the price of gold is not favourable for you at that moment, this could result in you taking a loss.
Monitoring of Performance: To ensure that you don't lose out on any opportunity once you have invested, it would be good that you spend time monitoring the performance of your investment, as you would monitor the stock market for your stock investments. That way, you can be ready to buy or sell at an opportune time.
Don't get emotional: It is very important not to allow emotions to get in the way of your investment decisions, especially when the market gets choppy. While it may be tempting to sell your investment at the first sign of a downturn to take your money back, it is more important to know if the downtrend is going to persist or is merely temporary. That is why it is vital to keep track of news in the market that can impact the performance of your investment and to study how the investment reacted when there were previous similar movements in the market.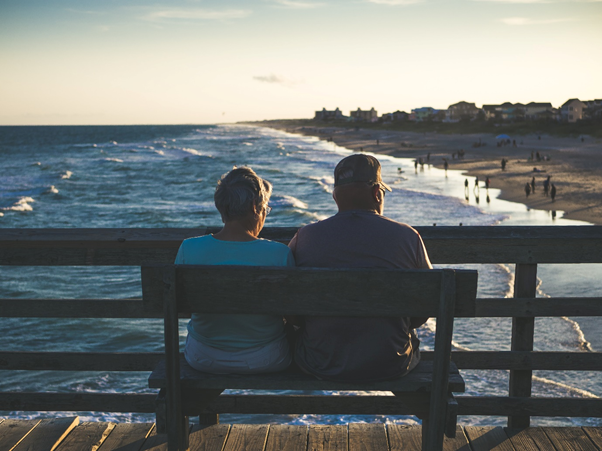 Photo Credit: James Hose Jr on Unsplash
In conclusion, here is a summary of the whole process of setting up a gold IRA:
1. Decide on the type of SDIRA account you prefer while taking note of the contribution limits.
2. Choose a Gold IRA company to help you on this journey.
3. Fund your account (Through a gold IRA transfer, rollover, or cash)
4. Buy gold that meets IRS requirements.
5. Choose and appoint an IRS-approved custodian.
6. Choose an IRS-approved depository for the storage of your gold.
We wish you the absolute best in your journey, and we hope that this guide has been a help to you.