As digitalisation continues to strengthen its stake in the world, simultaneously, there is a growing interest in digital assets. The U.S. Securities and Exchange Commission (SEC) defines a digital asset as 'an asset that is issued and transferred using distributed ledger or blockchain technology, including, but not limited to, so-called 'virtual currencies', 'coins', and 'tokens.'
The words 'digital assets' are commonly associated with another word: Bitcoin. In recent days, more and more people are interested in Bitcoin. You might even be one of them. But, before we explore how you can purchase Bitcoin, it is important to know what Bitcoin is because it is different from other instruments like stocks and bonds. Let's start with some fundamental knowledge about Bitcoin.
What is Bitcoin?
Bitcoin is the world's first cryptocurrency that was created by Satoshi Nakamoto. It is a digital currency that is decentralized, which means you can buy, sell, or exchange directly without the presence of a middleman or intermediary such as a bank. Bitcoin is not backed by the government or any issuing institutions. Instead, new Bitcoins come into circulation through a process called 'mining'.
Unlike fiat or paper currency, there is a finite supply of Bitcoin's total supply, which is capped at 21 million. Similar to gold which also has a finite supply, Bitcoin is also referred to as 'digital gold.'
You might also have the word 'altcoin'. Altcoins are cryptocurrencies alternative to Bitcoin, hence the term: altcoin, or alternative coin. An altcoin has a similar basic framework like Bitcoin, and they share code and function as peer-to-peer systems. Among the examples of altcoins are Ethereum and Litecoin.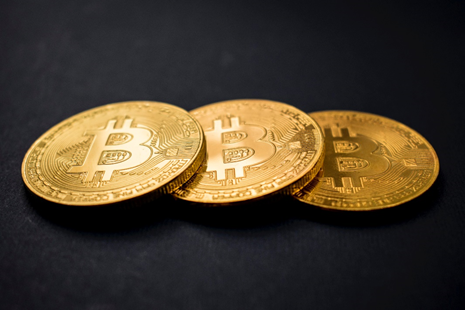 Photo Credit: Dmitry Demidko on Unsplash
How Bitcoin Works
Bitcoin is built upon a blockchain or a distributed digital record. In recent times, you might have come across the words 'blockchain technology' more frequently. If you're wondering what it is, blockchain is the underlying technology that drives the whole concept of cryptocurrency and contains every single Bitcoin transaction. When new transactions are made, 'blocks' of transactions are added to the sequential blockchain.
Bitcoin (BTC) Price History
The value of Bitcoin (BTC) has come a long way since its official launch in 2009. In fact, in the months of March and April of 2021, BTC/USD rose above $60,000! Basically, this means that the price of 1 BTC is more than $60,000!
In fact, in the first four months of 2021, BTC/USD has been on an upward trend, which also reflects BTC's growing value. BTC's rising value has been capturing the market's attention and drawing investors. However, the value of BTC/USD has since been dipping after breaking past the $60,000 mark in April. As of June 17, 2921, the value of BTC/USD has dropped below the $40,000 mark. This is causing much speculation if the BTC bull run is over, and what lies ahead for the value of BTC?
Regardless of BTC's current price, BTC continues to be in the spotlight as the battle between the BTC bears and the BTC bulls rage on, leaving many to wonder how will the value of BTC/USD fare in the coming months. Only time will tell, but one undeniable fact is that BTC continues to command its share of the limelight.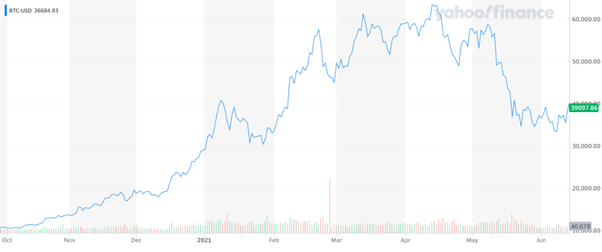 The chart of BTC/USD from October 2021 to June 17, 2021
Source: Yahoo Finance
Bitcoin as Payment
On May 7, 2021, Business Insider reported that more and more companies are accepting Bitcoin and other cryptocurrencies as payment, including PayPal and Xbox. In fact, the real estate market also seems to be warming up to cryptocurrencies. On June 14, 2021, Fox Business reported that in Miami, E11 EVEN Hotel and Residences, a real estate company also accepts crypto for deposit payments. Another real estate company in Miami, Arte Surfside luxury apartments was also reported to accept crypto as a form of payment.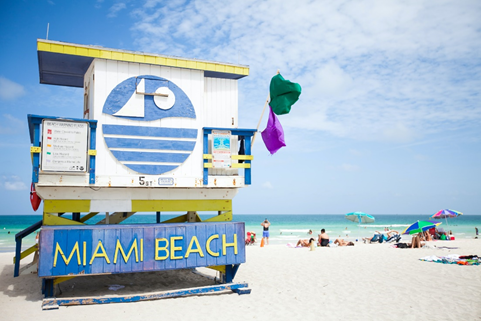 Photo Credit: Marc Fanelli-Isla on Unsplash
As the popularity of Bitcoin continues to expand among investors, there is also a growing number of people who are keen to begin investing in Bitcoin. If you are one of them, this is a guide to help you begin your journey. Let us start by exploring how to invest in Bitcoin. To begin investing, you will need to select a platform to perform your transactions.
How to Invest in Bitcoin:Cryptocurrency Exchanges
A cryptocurrency, crypto or digital currency exchange is a business where one can trade cryptocurrencies or other digital currencies in return for other assets including different digital currencies or conventional fiat money. In other words, crypto exchanges are where you buy and sell cryptocurrencies. In return for the service, there is a commission charged which can be a set amount or a percentage of the bid/ask spread.
Depending on the platform, payment can be made via bank account, wire transfer, money orders, credit cards, cryptocurrency, and other payment methods.
How To Choose a Cryptocurrency Exchange?
With so many cryptocurrency exchanges, it can be overwhelming to choose the right one for you. These are five key areas to look out for as you make your choice:
Security
Due to the nature of the buy or sell transactions that take place online, security is a key component as you would not want to spend time worrying if your account will be hacked into. The first thing you can do is to research the exchange's past record.
Have there any cases of a breach in security, phishing scams, or online malicious attacks? If there was, what action has been taken to improve its system? This will give you a glimpse into how much the company values safeguarding its investors' interest.
Secondly, how is the account opening process? A strict account opening process with proper due diligence conducted reflects a strong security infrastructure in place.
Lastly, is there a physical address that is displayed clearly and easily accessed? Knowing the location gives insight into the local regulation that it is under, and should anything untoward happen, you can easily reach out to the regulator for assistance.
With evolving regulations in the cryptocurrency space, it would be prudent to perform due diligence if the companies is already complying with local legislation and policies. If there is a licensing requirement in the locality, have the companies obtain the license?
For example, in the United States, cryptocurrency exchanges fall under the regulation of the U.S. Commodity Futures Trading Commission (CFTC) and the U.S. Treasury Department's Financial Crimes Enforcement Network (FinCEN). These exchanges are required to register with FinCEN in addition to complying with U.S. Federal AML requirements. In New York (NY), the buying and selling of cryptocurrencies are viewed as money transmission by the NY State. As such, exchanges are required to obtain a specific licensing.
Meanwhile, the SEC is responsible for regulating securities transactions, broker-dealers, investment advisers and other securities market participants. Registration as a security under the U.S. Securities Act is required if a cryptocurrency is classified as a security, and there needs to be compliance with U.S. federal securities laws. In December 2020, the SEC sued Ripple Labs, its CEO, and co-founder for selling XRP tokens, which the SEC classified as unregistered securities.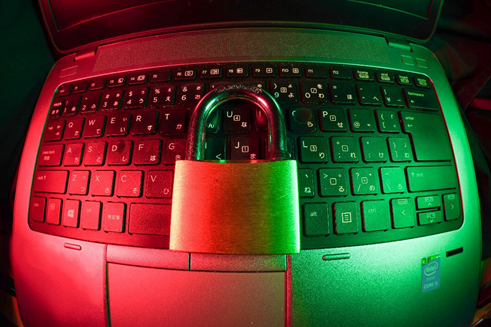 Photo Credit: FLY:D on Unsplash
Currency pairs offered and funding options
If you foresee yourself diversifying your portfolio into other altcoins in the future, you might want to choose a platform with a broader range of currencies. As of June 17, 2021, data from Coinmarketcap shows that there are more than 10,000 cryptocurrencies in the market. Additionally, you should also consider the funding options offered to see if they are suitable for you.
Cost
It is also important to know the fee structure. Is the fee based on the number of activities or the amount of your transactions? If you don't foresee yourself being an active trader, a lower fee for each transaction would not be a priority for you. Therefore, knowing your style is an important factor to make sure you can maximise your returns by reducing unnecessary cost.
Liquidity
It is also a wise move to research the liquidity of the exchange. This can be done by studying the volume of trading by the exchange. Liquidity also means that the exchange can fulfil its customer's order at any point in time. Additionally, an exchange that has a high volume also means that a larger number of traders are confident in using this platform.
User-Friendliness and Support
Lastly, you must be comfortable in using this exchange, so how user-friendly is it? Can you easily perform a withdrawal transaction? How many fiat currencies are supported by the platform? These are all factors that impact the user-friendliness of the platform.
Secondly, how strong, and helpful are their support system? Are the customer service easily accessible and are they able to provide relevant answers to your query? Getting feedback from other traders through online trading communities is a good way to gauge this. Having good customer service support is important to ensure that you have a seamless experience, especially if you are a beginner.
U.S. Cryptocurrency or Digital Exchanges
In the United States, traders are required to use dedicated U.S specific exchanges. Below is a review of some popular U.S. cryptocurrency exchanges based on the number of assets on the platform, fee structure, and exchange score on Coinmarketcap.
This score by Coinmarketcap is determined by the web traffic factor, average liquidity, volume, and the confidence that the volume reported by the exchange is legitimate. The score can guide for you to choose the best exchange for you as it considers the volume for the past 24 hours and weekly visits to its website. In the table below, the exchanges are listed in alphabetical order, not a ranking. Let's take a look at these companies.
Binance.US
Binance.US was created as a separate exchange from the main Binance platform. This came about after access had to be restricted to U.S. traders in 2019 and Binance U.S. is designed to comply with the laws in the U.S.
The payment methods accepted are wire transfer, bank transfer via the Automatic Clearing House (ACH) payment system and debit card.
Number of assets supported (as of June 17, 2021): More than 50.
Fee Structure: There is a 0.5% instant buy/sell fee and a 0.1% spot trading fees. The trading fees are also determined based on the trading volume over 30 days period as well as the daily Binance Coin (BNB) balance.
Exchange score on Coinmarketcap (As of June 17, 2021): 7.9
CEX.IO
Since entering the market in 2013, CEX.IO is currently serving more than 4 million customers globally, as of June 17, 2021. It is registered as a Money Services Business (MSD) with the FinCEN and currently serves residents of 48 states in the U.S. and Washington DC. However, NY and Virginia are not supported.
Payment methods accepted are credit/debit card, international transfer, the Society for Worldwide Interbank Financial Telecommunications (SWIFT) payment system, the Single Euro Payments Area (SEPA) payment system, the ACH payment system, the Faster Payment System, Skrill, local bank transfer, and cryptocurrencies.
Number of assets supported in the U.S. (as of June 17, 2021): More than 40.
Fee Structure: The transaction fee is based on the 30-day trade volume for all pairs and starts at 0.25% + 0.16%
Exchange score on Coinmarketcap (as of June 17, 2021): 4.9
Coinbase
Coinbase was founded by Brian Armstong and Fred Ehrsam in 2012. Coinbase went public on the Nasdaq exchange on April 14, 2021, via a direct listing instead of selling new stock through an initial public offering.
Payment methods accepted at Coinbase are bank transfer, wire transfer, the SEPA payment system, credit card, and debit card.
Number of assets supported in the U.S. (as of June 17, 2021): More than 50.
Fee Structure: Coinbase charges a spread of about 0.50% for every cryptocurrency purchase and sales as well as a flat per-transaction fee. The fees differ based on the type of funding method and this can go up to 3.99% with the use of a debit card.
Exchange score on Coinmarketcap (as of June 17, 2021): 8.9
Gemini
Gemini was founded in 2014 by Cameron and Tyler Winklevoss, or the Winklevoss twins as they are more famously known. It is a private NY trust company that provides cryptocurrency exchange and custodian services. It is regulated by the NY State Department of Financial Services (NYSDFS).
Payment methods accepted are bank transfers from local U.S. banks, credit/debit cards and cryptocurrencies.
Number of assets supported in the U.S.: More than 30.
Fee structure: For all buy and sell transactions, there is a flat 0.5% trading fee above the prevailing Gemini market price. Additionally, there is a transaction fee surcharge for fiat transactions that is dependent on the trading volume. The maker and taker fee model begin from 0.35% and 0.25% respectively.
Exchange score on Coinmarketcap (As of June 17, 2021): 7.6
Kraken
Kraken is a San-Fransisco based crypto exchange that was founded in 2011 by Jesse Powell. However, it only officially launched its trading operations in 2013. Among the payment options that are accepted on this platform are debit and credit card, bank transfers, the SWIFT payment system and the SEPA payment system.
Kraken is a regulated exchanged in the United States. However, as of June 17, 2021, Kraken does not offer services to residents of Washington state and NY. This is because the cost to maintain regulatory compliance in those states is very high.
Number of assets supported in the U.S.: More than 50.
Fee Structure: There is a charge of 0.26% for each trade. There are different factors that could impact this which includes the amount of cryptocurrency traded. Takers' fee will range from 0.10% to 0.26%, while makers orders will be charged from 0% to 0.16%.
Exchange score on Coinmarketcap (As of June 17, 2021): 8.5
How to Invest in Bitcoin:Traditional Stockbrokers
Other than crypto or digital exchanges, another option is via traditional stockbrokers. Among the stockbrokers in the U.S. are:
TradeStation
Under TradeStation Crypto, customers can invest in cryptocurrencies such as Bitcoin, Bitcoin Cash, Ethereum and Litecoin. Depending on the account balances, instead of the normal trading volume, the range of maker's fee is from 0.05% to 0.30% and the range of taker's fee is from 0.15% to 0.30%. One unique feature of TradeStation is how it pays interest on Bitcoin and other eligible crypto holdings.
Robinhood
You can now invest in Bitcoin, Bitcoin Cash, and other cryptocurrencies including Ethereum and Dogecoin via Robinhood Crypto. The Robinhood Crypto platform also provides real-time market data on various cryptocurrencies that it does not offer trading services for. It does not charge fees on cryptocurrency trades.
SoFi Invest
Through SoFi Invest, customers can now invest in Bitcoin, Ethereum and Litecoin. However, there is a transaction fee that cost 1.25% of the principal. For example, you purchase $100 worth of Litecoin at the prevailing market rate of $100. This would then be marked up to $101.25, which means you will receive less than 1 full LTC. However, the website indicates that the mark-up amount may be changed at any time.
How to Invest in Bitcoin:Copy Trading Via the E-Toro Social Trading Platform
If you are new to trading, copy trading could be an option for you. Through copy trading, one can copy positions by other seasoned traders by connecting a portion of your funds to their account. You could then learn about trading strategies, timing the market, when to open or close a position by leveraging on their experience to help you to build your confidence.
To begin via the copy trade route, one can opt to use eToro, which offers social trading facilities. The trading platform not only offers cryptocurrencies but stocks and commodities as well. It began its foray into cryptocurrencies with Bitcoin back in 2013. Apart from investing in Bitcoin and Bitcoin Cash, you can also invest in other cryptocurrencies such as Ethereum, Cardano, and Litecoin.
Through the eToro platform, investors have the option of investing in cryptocurrencies via a Contract for Difference (CFD) or purchase crypto with no leverage. In the former, you will not own the underlying asset, but you will be speculating on its future price. Meanwhile, in the latter, the underlying asset will be held in cold storage by eToro, on your behalf.
Among the payment methods accepted at eToro for deposits are debit card, online banking, and wire transfer. Beginners can also build up their confidence through a demo account, which includes $100,000 of virtual currency to practice with.
There are no fees for opening an account, but there are other fees such as withdrawal fees as well as charges on the spread which varies with each cryptocurrency. For example, as of June 17, 2021, the spread on Bitcoin is 0.75%, 1.90% for Bitcoin Cash, Ethereum, Litecoin and 2.90% on Cardano.
The eToro platform opened its door to the U.S markets in 2018. However, a disclaimer on its website indicates that it cannot provide its services to U.S. citizens who reside outside the U.S. for regulatory reasons.
How to Invest in Bitcoin:Bitcoin Atm and Peer-To-Peer Bitcoin Purchase
Alternatively, you can also purchase Bitcoin directly is through a Bitcoin ATM. You can find out the nearest Bitcoin ATM to you at Coin ATM Radar. You can also buy Bitcoin from other Bitcoin owners who wish to sell them.
Other Options
If you opine that Bitcoin can get volatile and you are not keen on the risks of the volatility when you buy Bitcoin, there are also other ways that you can invest in Bitcoin indirectly, such as:
How to Invest in Bitcoin:Grayscale Bitcoin Trust (GBTC)
The Grayscale Bitcoin Trust (GBTC) gives an opportunity for investors to gain exposure to Bitcoin via an open-ended private trust. Through GBTC, investors also do not have to arrange for the storage and custody of Bitcoin. Another attractive feature of the GBTC is that it's IRA friendly and shares of GBTC are eligible to be held in certain Individual Retirement Account (IRA), Roth IRA, and other brokerage and investor accounts.
The benchmark index used for GBTC is the CoinDesk Bitcoin Price Index (XBX). There is a minimum investment amount of $50,000 for accredited investors as well as a 2% sponsor fee that is charged annually. If you're wondering what is an accredited investor, among the definition of an accredited invested under the United States Securities Act 1933 is:
Someone who can show an annual income of at least $200,000 or a joint income of $300,000 for the past 2 years, with the expectation of receiving the same or more in the current year.
However, the United States Securities and Exchange Commission (SEC) further expanded the definition of an accredited investor through an SEC press release on August 26, 2020, to include those with 'defined measures of professional knowledge, experience, or certifications, in addition to the existing tests for income or net worth.'
Among other categories, SEC also defines accredited investors to include 'individuals who have certain professional certifications, designations, or credentials; individuals who are 'knowledgeable employees' of a private fund; and SEC-and state-registered investment advisers.'
Only accredited investors are allowed to participate in the private placements. However, the shares are available to the public on the secondary market and retail investors can purchase them through platforms such as Schwab or Fidelity.
Data from Bitcointreasuries.org as of June 17, 2021, shows that GBTC holds 654,600 Bitcoin or approximately 3.117% of the total Bitcoin supply of 21 million. Bitcointreasuries.org is a site that tracks Bitcoin holdings for publicly traded investment trusts and firms.
Grayscale Investments boasts of a stellar reputation as being the world's largest digital currency asset manager. The Grayscale Bitcoin Trust fact sheet reports that Grayscale Investments has more than $34 billion in assets under management, as of May 28, 2021.
How to Invest in Bitcoin:Bitcoin ETF and Futures
Alternatively, you may also consider investing in Bitcoin Exchange Traded Funds (ETF) in Canada. In February 2021, the Ontario Securities Commission (OSC) launched Purpose Bitcoin ETF, its debut Bitcoin ETF. Investing in a Bitcoin ETF would save you the additional costs of setting a wallet, or risk losing your keys as the fund would buy the physical coins before storing them in cold storage. In return, there is a 1.5% Management Expense Ratio (MER) that is charged by Purpose Investments Inc, its issuer.
However, it is only available to U.S. investors through brokerages that have access to the Canadian stock exchange. If you already have a brokerage account and you're interested to buy Bitcoin this way, check with your brokerage firm if they have access to the Canadian stock exchange. The next question that arises if the U.S. would soon launch its own Bitcoin ETF, following in the footsteps of its neighbour?
Another option is for you to trade Bitcoin futures, which gives you an opportunity to speculate on Bitcoin's future price.
After Investing in Bitcoin: How To Store Your Bitcoins?
Once you have decided how to purchase Bitcoin, the next step is to choose a wallet to store your coins and perform transactions. Very much like a physical wallet is used to store your hard cash, credit, and debit cards, choosing the right wallet is important to ensure the safety of your coins from online hacks.
The first thing for you to take into consideration in choosing a wallet is the operating system on the computer platform you are using to access your coins. Will it be a mobile device or a personal computer? Some wallets can run on mobile devices such as the iPhone or Android phones, while some wallets can run on computers with major operating systems such as Windows.
There are two different types of wallets for you to choose from which are:
Hot wallet
A hot wallet allows user to store, send, and receive their tokens and accessed through a computer browser on the Internet or an app. A hot wallet is stored by an exchange or provider in the cloud, and it will facilitate changes to transaction records that are stored on the decentralized blockchain ledger. Among hot wallet providers are Coinbase, Exodus, and Robinhood.
Cold Wallets
A cold wallet is an offline wallet that allows you to download and carry your Bitcoins. Being an offline storage, it is generally deemed more secure as it is not connected to the Internet and reducing the risks of cyber hacks. Example cold wallets providers include Ledger, Trezor, Mycelium.
Hot Wallets Versus Cold Wallets: Which is the Right Option for Me?
You might be wondering which should you choose, out of the two wallets? After all, you wouldn't want to be worried about someone breaking into your wallet!
Although some investors prefer using a cold wallet, others have multiple wallets, including a combination of both. They store a small amount of their coins in their hot wallets while using a cold wallet to store the rest.
However, to safeguard your Bitcoins in your wallet, it is also important to ensure that keys are stored securely, a strong password is created to minimize the risk of unauthorised access, and an additional two-factor authentication is used.
Investment Principles When Investing in Bitcoin
As with all other investments like stock and currencies, it is always prudent to abide by these investment principles when you invest in Bitcoin.
(i) Time
Under the 'time factor', there are two important questions that you need to ask yourselves before you invest in Bitcoin, which are:
How Long Can I Set Aside My Investment Funds?
Before you begin investing, decide on what would be a time horizon for your investment. How long are you looking to set aside the portion of funds for this investment? Are you only comfortable setting the funds aside for a short-term or a longer one? This is slightly different from the length of time frame for the investment itself.
For instance, you may want to set aside $20,000 for investing in Bitcoin, and based on your asset holdings, you decide that you are comfortable doing this for one year. Within that year, you can do short-term trades which lasts for a day, before exiting to find the right time to enter again.
Once you have ascertained a timeline that you are comfortable with, you can then decide on an investment strategy that works best for you.
How Much Time Do I Have to Spend on My Investment Daily?
Secondly, it would be good if you can decide how much time that you can spend on this investment daily. If you do not foresee yourself having much time, then you can opt to follow the copy trade route or simply HODL your Bitcoin.
The term HODL simply means to hold your Bitcoins without selling. If you are a bullish investor and believe that the value of Bitcoin will rise significantly in the long term, then this will be a suitable option for you, regardless of how the price fluctuates in between.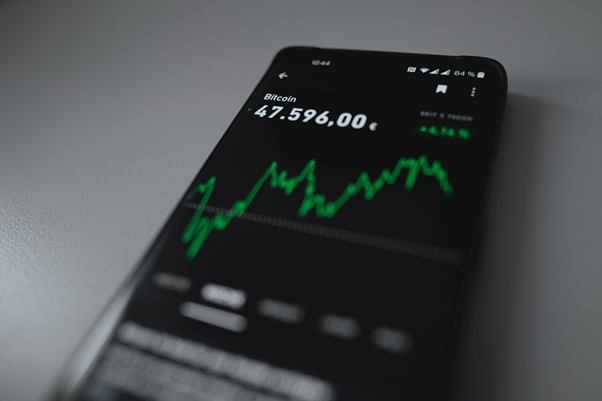 Photo Credit: Cedrik Wesche on Unsplash
(ii) Emergency Funds
It is also important to consider how much is a comfortable amount for you to invest by ensuring you have sufficient emergency funds set aside. An emergency fund is the funds you set aside for unexpected expenses or a period when you don't have an income stream.
A popular rule of thumb in personal finance is to always ensure that you have at least six months' worth of emergency funds set aside, although some people prefer to set aside for up to 12 months. The rule 'do not put all your eggs in one basket, although typically used to highlight the importance of asset allocation, can also be applied in financial planning to show that it is not wise to use all your savings or cash in hand for investment, as you never know when you would need to use them. That is why it is more prudent to only invest after you have sufficient emergency funds set aside.
Are using credit cards a good idea to purchase Bitcoin? Although there are platforms that accept credit cards as a mode of payment when you buy Bitcoin, it is not advisable to use a credit card for investing unless you have the means to pay the amount used on your credit card before interest is charged. If you don't have the means to pay off your credit card in full, you are only increasing your debt level and this can even impact your credit score.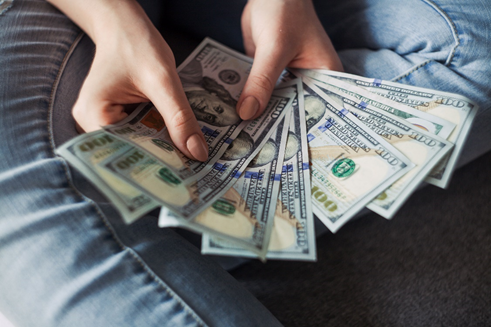 Photo Credit: Alexander Mils on Unsplash
(iii) Risk Appetite
Another important consideration is your personal risk appetite. Whether you're investing in stocks, bonds, or Bitcoin, having a risk management strategy in place is key. You must understand that there are different risks associated with stocks, bonds, and Bitcoin.
Are you a cautious investor who prefers to take on minimal risk when investing, or are you comfortable with a larger amount of risk in your investment portfolio? You must also remember that your risk appetite could change over time, so it's always good to take stock of your current situation to see if your risk appetite is the same.
Due to the volatility of the investment, Bitcoin is considered a risky asset. A cautious investor might not enjoy Bitcoin's volatility and might lead to a few sleepless nights, worrying about losing your money. Therefore, it is important to know the type of risk that you are comfortable with, and if volatility in your investment something you can take to avoid any distress.
(iv) Asset Allocation
Next, you should also decide how much of your total investment portfolio should consist of Bitcoin. As mentioned earlier, a well-known principle in personal finance is not to 'put all your eggs in one basket'. This highlights the need to diversify into various investments available such as stocks, bonds, and even real estate if you are willing to invest for a long term. Most importantly, your portfolio should not be heavily concentrated on a single asset class. If you are an existing investor, this would also be a good time to take stock of your portfolio and how you have been investing.
Once again, this goes back to your personal risk appetite and investment objective. It is always good to seek advice from a licensed financial planner on how to allocate your asset in your investment portfolio.
Are Bank Account Details the Only Information I'll Need To Set Up An Account?
If you're all ready to set up a cryptocurrency account to buy Bitcoin, among the important information other than your bank account would be your Social Security Number and a picture ID. It is advisable to set up your account in a quiet setting with a secure Internet connection so that the process goes smoothly and you will not be distracted in the process. When setting up passwords, ensure that the passwords you choose are secure. Most importantly, remember to keep all your passwords in a location that you can easily remember, access, and safe.
We hope that this guide has been helpful for you, especially in answering any questions you may have about how to invest in Bitcoin. We wish you all the best as you begin your journey of investing in Bitcoin.